New contracts for Verschaeren, Doku and Colassin
SATURDAY, 27 JUNE 2020, 10:22 - lajoya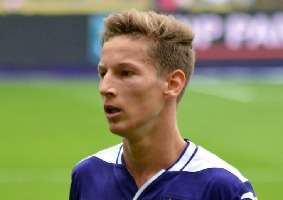 TRANSFERS We should not expect large transfers from Anderlecht this summer. That says CEO Karel Van Eetvelt. An extra defender and winger are on the wish list. Purple & White is committed to extending the contracts of its own youngsters.


"I have to disappoint those who expect spectacular and expensive transfers," said Van Eetvelt on the sidelines of the presentation of the new jerseys yesterday. The CEO is especially happy that he does not have to sell top talent to get the bill right. "Thanks to the financial injection of the past few weeks, that is no longer necessary."

According to Van Eetvelt, there are indeed teams that want to buy Doku and co. "But I can and will say no for a long time." In fact, Van Eetvelt wants to keep the youngster for a longer period. "We are in talks with Colassin, Doku and Verschaeren to renew their contract. We are not in a hurry, because they are still fixed for a long time," says Van Eetvelt. The trio have a contract until 2022.

"Our goal: to launch youth"

Unlike AA Gent, for example, Anderlecht will not spend large amounts on the transfer market. "We already have many good players, the most important thing is to keep them on board. Our goal is to launch youth. Only then we look at transfers," says Van Eetvelt. "We are going to strengthen ourselves, but you should not expect big names."

According to Het Laatste Nieuws, at least one extra defender and an additional winger are on the wish list.
 
 


Source: Het Laatste Nieuws (Pieter-Jan Calcoen)
Het Nieuwsblad (Jurgen Geril)

anderlecht-online forum